The project "Improving the quality of Vietnamese tropical fruits" (project) has begun, with training activities, technology support, and field practice… sponsored by the Dutch government. Increasing the number of options for dragon fruit export in a sustainable manner to a strictly market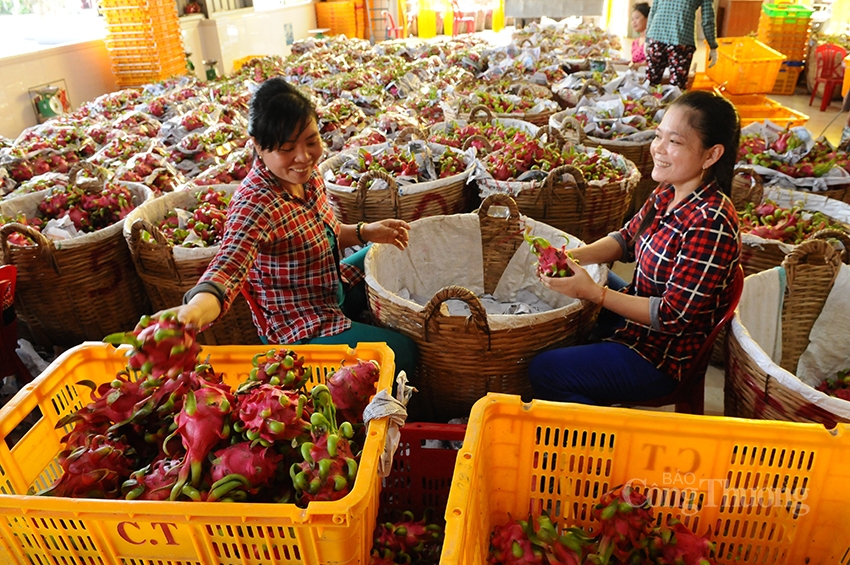 In recent years, the area under dragon fruit cultivation in Vietnam has rapidly expanded, reaching 50,000-60,000 hectares. Dragon fruit production is heavily reliant on the Chinese market, So, it is easy to become unable to sell when problems arise. Mr. Peter Prins, the Project Coordinator, stated this at a webinar recently organized by Eurofins Sac Ky Hai Dang Co., Ltd. Mr. Peter Prins also stated that one of the project's goals is to remove this barrier and increase dragon fruit export capacity to the EU market in Vietnam.
The project aims to assist farmers in farming properly, producing products that meet the technical standards of EU importers, connecting business opportunities between a Dutch importer and a tropical fruit producer in Vietnam. The project does not intend to drastically alter farming practices but instead provides farmers with tools, solutions, and irrigation technology to help them grow more efficient crops. It will specifically introduce and implement Eurofins' soil quality control technology for dragon fruit in the Netherlands. Field trials on crop care techniques and fertilizing according to the project's recommendations and procedures will conduct as part of the project.
Simultaneously, keep an eye on the pesticides used and the time of harvest to ensure residues do not exceed thresholds. "Changes in the cultivation process need to discuss with partners to capture information and agreement, do not arbitrarily change active ingredients during the cultivation process", Mr. John Dufill emphasized
According to the above view, Mr. Vuong Quang Huy – Technical Manager, Eurofins Sac Ky Hai Dang Co., Ltd – said: Control of pesticide residues in the EU is one of the strictest standards in the world. Control items are different from other markets, combined with specific standards from importers are big challenges. Particularly for dragon fruit, EC regulation No396/2002 requires testing of at least 510 active ingredients, of which 332 are using the MRL threshold (maximum allowable residue) in the default form of 0.01mg/ kg. In which, there are 3 groups of active ingredients that enhance with concern, control and special interest: Dithiocarbamate, Phenthoate, Quinalphos.
EU market has a huge exportation potential for Vietnam's dragon fruits, The market is not only the Netherlands but also other European countries. The EU needs very high technological standards compared to many markets. The overwhelming majority of consumers need global GAP, CSR, test conditions, certificates, etc. However, the EU's standard barrier is not to prohibit dragon fruit and Vietnamese agricultural products from increasing their export capacities, but rather to provide prospects for mutual development. When manufacturers in Vietnam comply with rules for sustainable development and export.
Vietnamese dragon fruit producers need to consider 3 issues, in which the main point must be to control the residues of pesticides; the quality of products is stable; the reliable supply program will not stop as soon as a long-term supply agreement enter.
The project "Improving the quality of tropical fruit trees in Vietnam" will be implemented until March 2024, supporting 4 provinces of Vietnam including Binh Thuan, Long An, Ben Tre and Dong Thap to improve the quality of 3 types of fruit. dragon fruit, mango, and grapefruit with green skin so that they can be exported to the EU market.
Source: Congthuong.vn